It's never a good sign when the U.S. men's national team's biggest pro debacles on Friday full of drawbacks – a 2-0 loss to Japan that doubles as the penultimate tune-up of the Yanks for the FIFA World Cup – was goaltender Matt Turner. Arsenal's summer signing was frequently called into action and made six saves to prevent the game on German soil from turning into a lopsided defeat.
Almost exclusively outside of Turner's game, which wasn't perfect but fits the trend of stellar play by American goaltenders since the turn of the century in the World Cup years, it was Japan men vs. United States boys. The Americans didn't take a shot on goal for the first time in a year. The best chance came early, a seventh-minute header from Jesus Ferreira that exploded over the crossbar despite a exemplary crossing of Sergino Dest and no Japanese defender lays hands on him. The United States never had a clear chance on goal. That's over 83 grueling minutes.
The problems with the loss to Japan do not concern Christian Pulisic, who did not play as a precaution due to an injury he suffered earlier this week. The majority of the other starters and reserves will be in Qatar. USMNT Head Coach The Isolationist Policy of Gregg Berhalter works at club level. And it's starting to become tangible plot holes ahead of the tournament where his future at the helm will be determined. I'm just saying those shortcomings are evident now because the United States has the safety net of being away from the World Cup, where there was time to fix everything. It's gone, and it's the same incoherent air of the Americans.
It's obvious to call the game against the Blue Samurai as inadequate to qualify for the World Cup knockout stage, which the USMNT have done in their last two showcase appearances. For me, it's a bigger accusation how boring the Yanks' style of play was. No enthusiasm, no desire to take risks and test the Japanese defense, and no creativity. At least Berhalter did something to try and quell his side's monotonous nature with four substitutes to start the second half. And after a few minutes of pressing near the Japanese goal, it started again and never came back.
Japan beat USMNT in World Cup warm-up | Soccer Highlights | ESPN-FC
Changes to the composition of this game, including the inclusion of Sam Vines, did not work. It was obvious how integral Antonee Robinson, currently injured, is. The centre-back duo of Aaron Long and Walker Zimmerman looked fragile. Zimmerman has done well with the others, so Long should get the starting 11 tree in Qatar. Let's not forget Ferreira in the lead, who has scored five goals for the USMNT in 2022. Four of those came against lowly Granada, so basically one goal against legitimate competition. The quest for a legitimate number 9 for Qatar has failed. And plugging in the same players who haven't produced enough in the American offense is silly. Let's not forget that in the USMNT's last five games outside the U.S. borders, the team scored a goal, a stoppage time equalizer for Jordan Morris against El Salvador in June, and didn't won. Quite the confidence killer.
G/O Media may receive a commission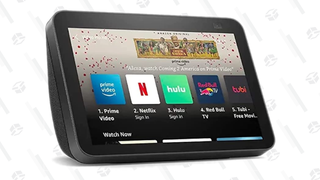 Alexa ?
Dispose d'un écran tactile HD de 8″ qui peut vous permettre de regarder des émissions, de diffuser des choses ou même de passer des appels vidéo grâce à l'appareil photo 13 MP, vous pouvez également l'utiliser pour contrôler facilement d'autres appareils intelligents dans votre maison, et même afficher des photos si vous voulez comme un cadre photo numérique.
Les positions de départ pour November 21 match against Wales appears to be a two-way battle for one of the wing points opposite Pulisic between Gio Reyna – son of Claudio – and Brenden Aaronson. My idea of ​​a Tim Weah false nine went unheard by Sir Gregg. Yunus Musah's midfield, who is also injured, alongside Weston McKennie and Tyler Adams is locked down, as are the outside backs occupied by Dest and Robinson. Zimmerman wearing the captain's armband against Japan gave the signal he penciled in, leaving the other centre-back spot vacant for the time being, and Long's audition was a failure. There's still time to consider John Brooks or Tim Ream, because Mark McKenzie won't cut it either. Maybe try Chris Richards, who didn't play against Japan. An odd idea would also be Reggie Cannon, who is better suited as a full-back but constantly slips to complement the two centre-backs. He must be on the plane for Qatar after being one of the few non-Turner bright spots in Friday's game.
Friday's fiasco brings intrigue to Tuesday's dress rehearsal and the USMNT's final game until it lines up against Gareth Bale just before Thanksgiving. The Americans will face Saudi Arabia, who will also be in Qatar. Berhalter has nothing to lose by tinkering with the queues. No one will care about this game if the USMNT wins World Cup. If the Yanks stank the place like this morning's mondo duke, it would be easy to look back on those two games and wonder what Greggy-poo could have done to avoid the poo. But hey, at least Matt Turner played well.