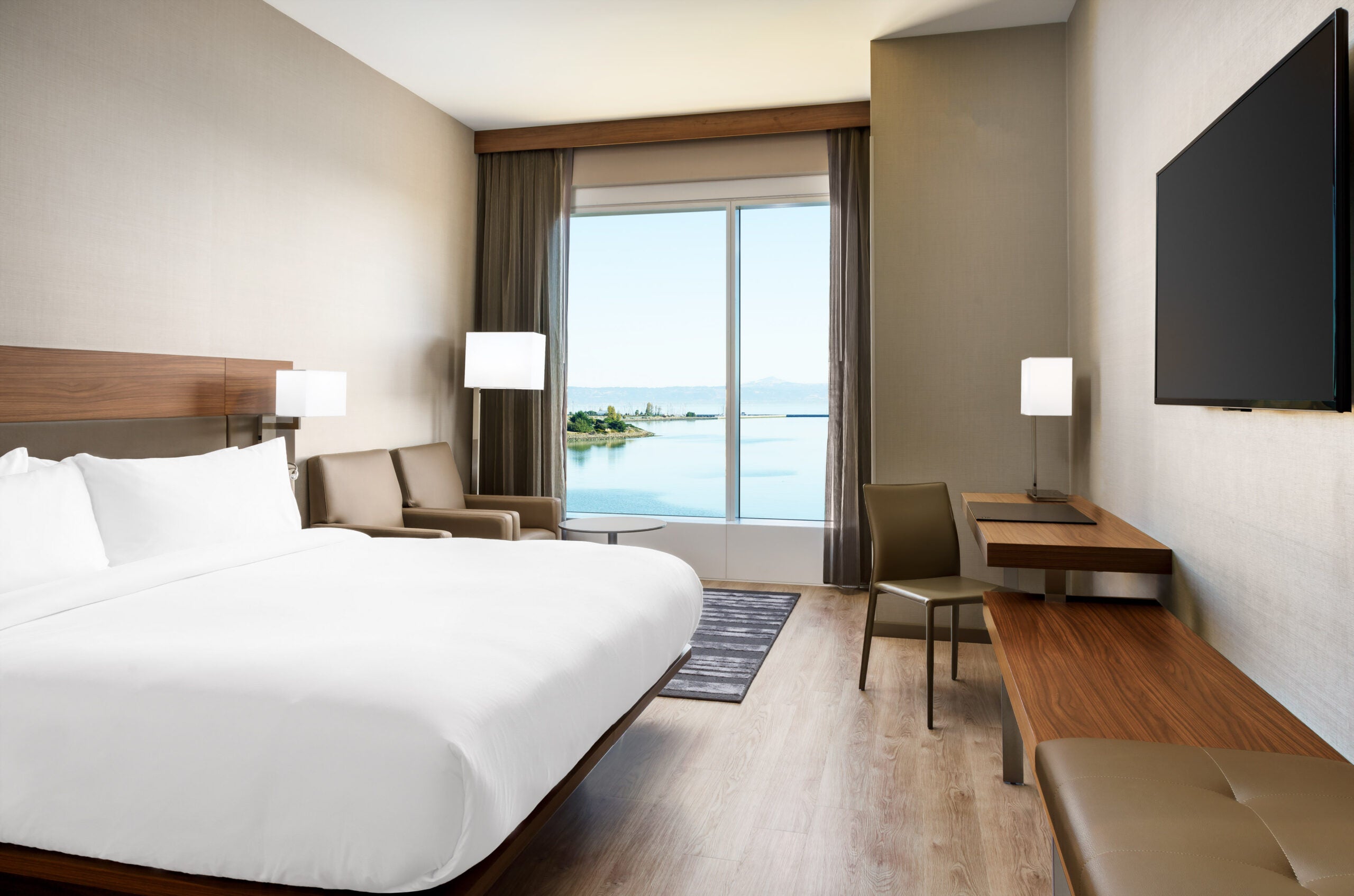 Future growth in the hospitality industry is less likely to involve mega-deals that induce years of headaches as teams merge brands, corporate culture and loyalty programs, CEOs said this week. CEO of two of the largest hotel companies in the world.
Instead, hotels will consider supplementing their brand portfolios to provide guests with a full range of options rather than risk losing them to competitors. In other words, hotel owners who don't operate an ultra-luxury brand like St. Regis or Waldorf Astoria better add one. Otherwise, they risk losing some loyal customers to competitors with multiple premium offerings. Oh, and maybe throw in a yacht Where vacation home or two.
"It's like rungs on a ladder," IHG CEO Keith Barr said Tuesday at the Skift Global Forum in New York. "If you're missing rungs, it's hard for customers and owners to climb that ladder."
Subscribe to our daily newsletter
"If your goal is to achieve nearly 100% travel wallet share for your customers, you want to have enough scale that they never need to look outside of your ecosystem," Anthony said. Capuano, CEO of Marriott International, later that day.
There is always speculation that brands such as IHG Hotels & Resorts, Accor and Hyatt could one day join forces to better compete with Marriott and Hilton. However, it seems that era is behind the industry – assuming you can believe what hotel CEOs have been saying for several years now. Marriott and Starwood took years to integrate after their $13 billion merger in 2016 resulted in a portfolio of 30 brands, including St. Regis and Westin.
Focus on smaller projects
Instead, the industry currently seems to be focused on smaller and targeted offers that provide geographic lift in regions where a hotel company did not have a presence prior to the acquisition. These types of offers can also fill gaps in a price segment of the market where a hotel company was previously limited.
Geographically, Marriott's acquisition of AC Hotels gave it a boost in Europe while its purchase of Protea Hotels expanded its reach in sub-Saharan Africa. In terms of market segments, IHG has made inroads into the ultra-luxury sector with its acquisitions of Regent and Six Senses as well as more upscale soft brands like the Vignette Collection, aiming to attract more shop customers.
There's also a business case for doing this, as it opens the door to working with hotel owners who previously wouldn't consider entering into a branding deal with a company like IHG.
"It was like a puzzle," Barr said. "We had the pieces, but we didn't have them in place. Now we have them, and so it's amazing how it's transformed our ability to work with companies today and funding partners that didn't speak to IHG. It's really, really exciting.
Sometimes these expansions don't even involve a traditional hotel brand. Marriott launched its Homes & Villas vacation platform after realizing it was losing business to vacation home platforms; prior to the acquisition, members of Marriott's Bonvoy loyalty program did not have a whole-house option to earn and redeem points.
"Part of the reason we launched Homes & Villas [wasn't] because we thought we were going up against Airbnb, but because for a variety of specific travel purposes — multi-generational travel, for example — our web team members have told us that an in-home, multi-bedroom experience better suits their needs" said Capuano.
Hospitality Partners
For a long time, hotel industry executives felt there was a choice between freshness and size. You can either be a cool, fashionable brand with just a few hotels, or be a giant with a worldwide reach, but with a more sterile, less fashionable feel to your properties. Some of the largest hotel companies in the world are now testing this model.
Accor – the French hotel conglomerate behind brands like Fairmont, Raffles and Sofitel – last year took a majority stake in Ennismore, the UK-based lifestyle hotel company with brands like The Hoxton and Gleneagles.
Ennismore's management, including founder and now co-CEO Sharan Pasricha, are still very much involved in maintaining the customer experience and maintaining the ethos of the family of brands. Accor's management – including Gaurav Bhushan, CEO of Accor's lifestyle and entertainment division and now co-CEO of Ennismore – is largely focused on operations, growth and performance.
The term "lifestyle hotel" can be confusing, but it generally refers to a hotel that focuses more on design, experiences, food and drink. Think of those super-hip neighborhood hotels that are way more welcoming than the dimly lit boutique hotels of the past. Accor and Ennismore define lifestyle hotels as those that derive around half (or more) of their revenue from food and beverage outlets. Small businesses that operate these lifestyle hotels typically reach about 12 properties before reaching their maximum bandwidth for operations, Pasricha said.
"Or you're part of a larger group, but then you get lost in the system. I guess what we are trying to do is turn the tide," he added. "We are really autonomous in our operation. We have an independent culture. Many of our founders of the original brands are very involved.
There's always a bit of a backlash when a cool brand is taken over by one of the major hotel conglomerates. Kimpton was the star child of the boutique hotel movement before IHG acquired it. Even Marriott had signaled that it needed to help bring the W brand back to its glory days of being a mover and shaker in the hotel's orbit.
One of the ways the Ennismore team seems poised to maintain its grip on customer appeal while expanding globally is by keeping the brand's founders involved. Pasricha said the founders of brands such as 25hours Hotels and Mama Shelter should stay involved in executing the original real estate visions rather than handing over expansion duties to Accor.
"Doing lifestyle on a grand scale hasn't been done before – not in a way that really isn't an oxymoron," he added. "There's actually a tension between authenticity and scale, and if we didn't have the founders involved in the brands and if I wasn't the founder running the product side of the business, I would say it would be hard because lifestyle brands are hard to do. They are really hard to do.
A cool big brand conglomerate partnership is fading though. TPG reported earlier this year that Marriott and Ian Schrager, Studio 54 Founder Turned Boutique Hotel Mogul ended their partnership on the Edition brand. The late Marriott CEO Arne Sorenson pointed out years ago that Edition's success hinged on Marriott's collaboration with a visionary of cooler, smaller brands like Schrager.
"I've worked with Ian for 12 or 13 years. I have such admiration not only for his creativity but also for his passion. He likes to create. He loves this brand," Capuano said this week before finally acknowledging that the track partnership had its limits: "We haven't renewed our exclusivity with him. But again, we have 15 active projects. Our teams talk to him and his team every day, and he's as engaged and passionate as he's ever been.