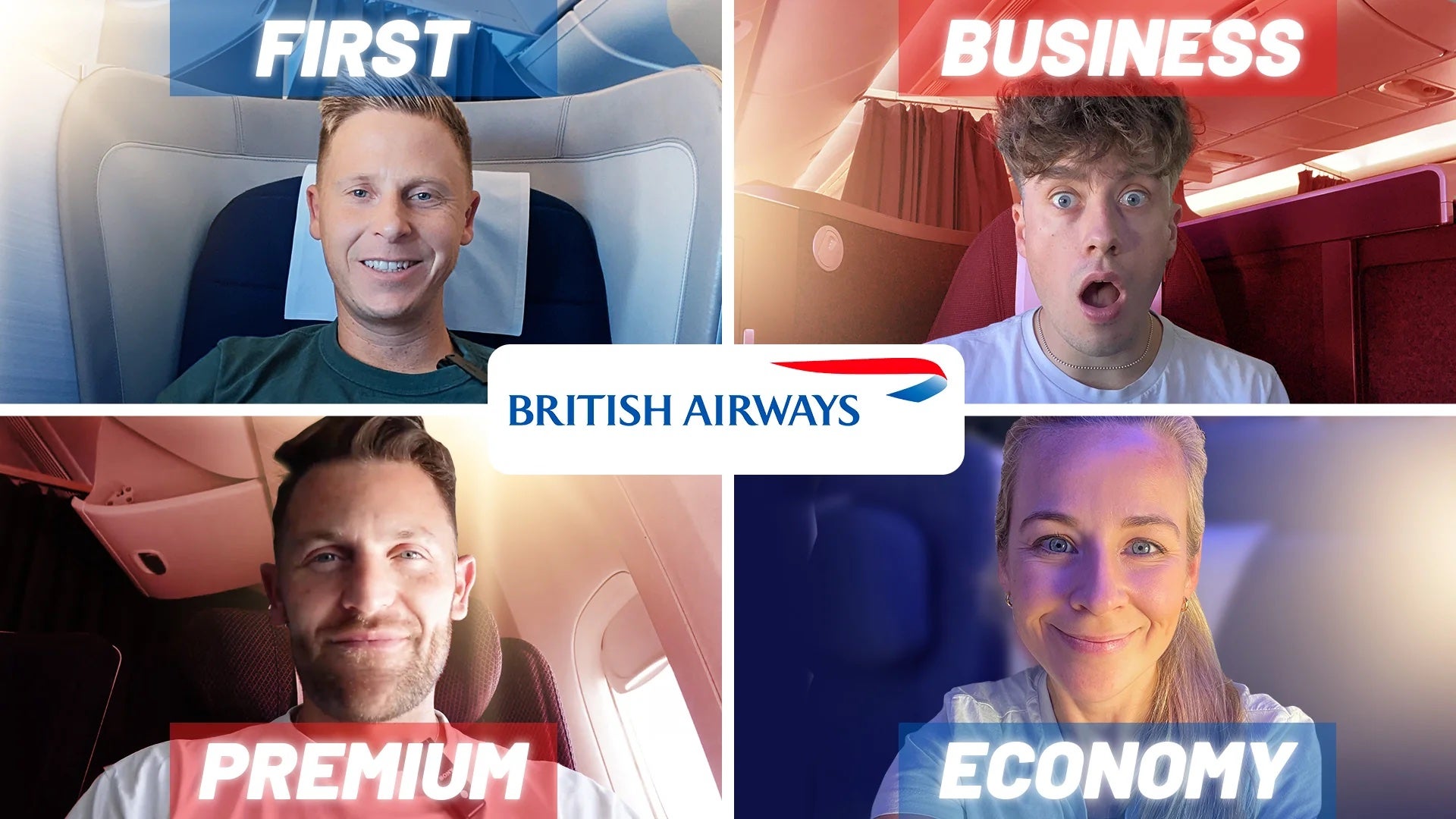 With many multicab reviews under our belt at TPG, this time we're going back to our roots and revisiting our first viral hit: reviewing four classes on the same British Airways flight.
The original video was posted on May 16, 2019 and amassed 184 million impressions and 7.7 million views. It also kickstarted our journey to nearly 400,000 subscribers and 71 million views on The Points Guy UK YouTube channel.
We boarded a British Airways Boeing 777 again, but this time it was a refurbished 777-200 with British Airways' latest business class product, the Club Suite. This is a significant upgrade to the product we featured in our last video. We flew this aircraft from Terminal 5 at Heathrow Airport (LHR) in London to Dulles International Airport (IAD) outside Washington, DC
Subscribe to our daily newsletter
Watch the full video below:
Here's a breakdown of our individual experiences on BA's 777-200:
First Class – Ben Smithson
Headquarters: 1K.
We payed: 68,000 Avios plus $499.
I found this to be an upgraded experience compared to British Airways business class. It was overall much better than I expected. The food – presentation, variety and taste – was real fine dining. I would be happy to be served in a five star hotel in London.
The Concorde Room lounge terrace was an airy and bright space perfect for enjoying a glass of vintage champagne while escaping the crowds in the terminal below.
The seat, however, needs a sliding door to provide the privacy it lacks. Some BA First Class seats now have a door and Business Class on this flight has doors. The in-flight entertainment screen was old, clunky, and quite low resolution. Also, back on the grounds, while the terrace is lovely, the interior dining booths in the Concorde Room are quite dark and dingy.
Read more: Always better than business class: a review of British Airways First on the 777 from London to Washington
Club Suite—Liam Spencer
Headquarters: 15K.
We paid: 50,000 Avios plus $499.
It was one of the roomiest business class seats I've flown on. The fully closing door allowed complete privacy and was the real star of the product.
From starter and main course to afternoon tea, all the food was delicious. I opted for the chicken tikka masala for lunch after a recommendation from the cabin crew and it turned out to be the best curry I've ever had on a plane.
The Club Suite cabin was incredibly fresh, modern and clean. The product is a few years old but has shown no signs of aging.
However, some improvements could be made. The bed in the Club Suite could have been more comfortable and wider. The bedding itself was perfectly fine but the floor was quite narrow.
In addition, my business class ticket gave me access to British Airways business class lounges at T5 at Heathrow. These aren't bad places to relax before your flight, but they're way behind other Heathrow business lounges in terms of comfort, design and dining options.
World Traveler Plus — Nicky Kelvin
Headquarters: 23A.
We paid: 26,000 Avios plus $357.
Terminal 5 has a separate premium economy check-in queue, which is relatively rare among airlines that offer a premium economy product and the queue was very short.
On board, the seat was very spacious and comfortable, and the smaller cabin gave an extra sense of privacy. Food and amenities were also real improvements over economy and closer to what is provided in business class. The food was served on real dishes and was very tasty. The hearty meal was enough to satisfy all appetites.
Unfortunately, there is no lounge access and the ground experience is the same as economy – except for the separate check-in line. While the seat was very comfortable for a daytime flight and had a decent recline, I would still have trouble sleeping in this seat on a nighttime flight.
World Traveler — Maren Gimnes
Headquarters: 37A.
We payed: 13,000 Avios plus $265.55.
I really appreciated the friendly team and the quick and efficient service. I found there was a good amount of leg room and liked the colors and design of the seat.
The comfy blanket was much larger than I'm used to on long haul economy class flights and I was surprised at how many snacks we had between meals. It was also great to have my own bottle of wine rather than just a glass.
All was not perfect, however. There was a lot of space between the seat and the fuselage, which made it uncomfortable to lean against the window, although this was a problem suffered by all pairs of two seats in the last rows of this aircraft. The main course had tasty vegetables, but the meat was very dry. Finally, the headphones were of poor quality and you better bring your own to watch the in-flight entertainment.
Related: