Key points to remember
Algorand rebounded 15% after revealing the appointment of Michele Quintaglie as its new chief marketing officer.
Quintaglie has experience at some of the world's largest companies including Visa, Fidelity and Raytheon Technologies.
Thanks to its partnership with the main football federation, FIFA, Algorand is attracting increased interest in the preparation for the World Cup in November.
Algorand is one of the few cryptocurrencies in the green after the Federal Reserve raised US interest rates by 75 basis points yesterday.
Algorand challenges the market
Algorand has hired a new CMO.
The company behind the so-called "sustainable blockchain" announcement Wednesday that it had hired Michele Quintaglie as its new marketing director. Quintaglie joins Algorand's new interim CEO, Sean Ford, after the company's former CEO, Steven Kokinos, stepped down in July.
Quintaglie has experience at some of the world's largest companies, including positions as head of communications at Visa and Fidelity, as well as head of global media relations and public affairs at Raytheon Technologies.
Algorand appears to have reacted favorably to Quintaglie's appointment. Since the news broke yesterday, the ALGO token has jumped over 15%. It is one of the few cryptocurrencies in the green after the market reaction to the Federal Reserve Interest rate hike of 75 basis points.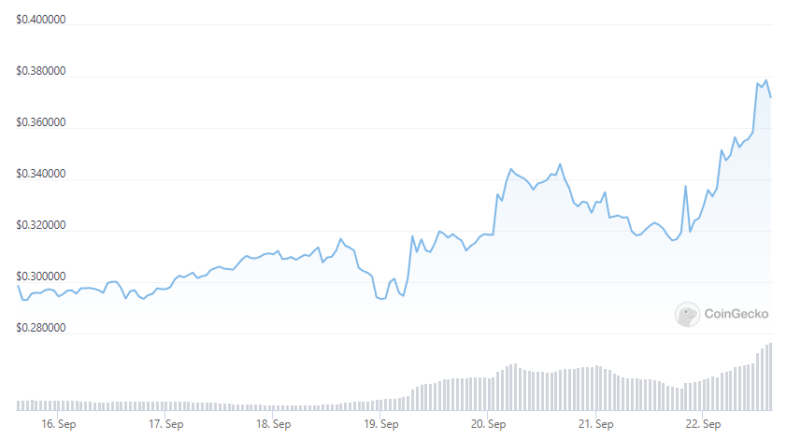 However, despite today's positive price action, Algorand is still below its bull market peak. ALGO briefly peaked around $2.98 in November 2021, but lost much of its value as crypto and stocks fell throughout 2022 in response to interest rate hikes from the Federal Reserve and deteriorating macroeconomic conditions.
Another Tailwind
Yesterday's appointment of a new marketing director is not the first favorable wind for Algorand in recent months.
In May, Algorand entered into a partnership with the world's leading football federation, FIFA. ALGO token received a bullish boost after FIFA announcement Algorand would become the organization's official blockchain platform, helping it gain greater visibility.
Since the partnership with FIFA, Algorand has benefited from increased interest from investors and football fans. Earlier this month, FIFA revealed "FIFA+ Collect", a new platform that will allow football fans to own unique digital collectibles of the most iconic moments from FIFA World Cup matches. According to the recent partnership, FIFA+ Collect uses the Algorand blockchain to verify proof of ownership. The FIFA+ Collect Marketplace went live Thursday, which may have contributed to ALGO's rise alongside the recruitment announcement.
Elsewhere, other football-focused crypto offerings are also outperforming the broader market. Chiliz, a blockchain that allows users to create fan tokens for top European football clubs, saw its native CHZ token skyrocket ahead of the FIFA World Cup in November. CHZ is up over 183% from its June lows, while fan tokens for clubs such as FC Barcelona and Manchester City have also produced notable gains.
It is not yet known whether Algorand will continue to benefit from this as the World Cup approaches. With such an unstable economic backdrop, assets such as cryptocurrencies that occupy the end of the risk curve will be the most vulnerable in the event of a recession. Still, Algorand seems to be creating a solid foundation by bringing in top talent and forging major partnerships. As such, it will likely be well positioned should the crypto market begin to rally in the future.
Disclosure: At the time of writing this article, the author owned ETH, BTC, and several other cryptocurrencies.